When college teacher Bhanu of Mylapore located the tailor who always stocked school uniforms for Rosary Matric School girls, hoping she would get two sets for her daughter quickly, she was directed to a space less known in Luz.
A nook in the mezzanine floor of the shopping complex on R. H. Road which houses the popular shops, Mohan Jewellery and Gani Dresses. The tailor was not present but a friendly shop-keeper gave her leads on how to reach him.
Bhanu shared this information and that is how we got to know one of Mylapore's most iconic tailors. A tailor who has clothed Rosary Matric School students over the past 50 years.
Moiuddin is in his late 80s. We are given his phone number and told to be patient in the conversation – because the old man's hearing is not too good nowadays.
He now lives in Porur, since his San Thome house is being re-developed. And he says he wants to retire for good. So if he can sell the last sets of uniforms to Rosary girls going back to school this November, he will shut shop.
Moiuddin doesn't have a shop space; he uses a friendly tailor's space.
But once upon a time, Eros Tailors was legendary, at least among the Rosary School community. His shop was in the now defunct Shanti Vihar complex in Luz.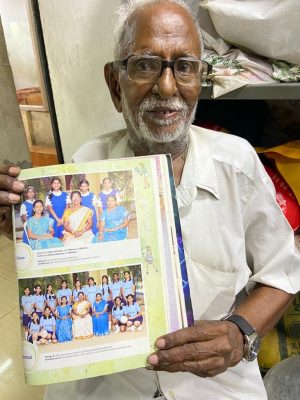 As bhai's story got posted on the social media page of Mylapore Times, dozens of comments, all from the school alumni popped up.
Said Uma Balasubramanian: I am in my seventies.When I was in college, I used to get my blouses stitched by him. A very sincere tailor. Even in the sixties, he was considered one of the best tailors and used to stitch perfect fitting frocks and blouses.
Said Kalpagam Jaikumar;  I am an old student of Rosary and eventually every year I used to visit him for new uniform measurements… he even used to support all other school events for costumes
Said Kalpana Rajasekaran: Eros Tailor has stitched my uniform from 1965 to 1978. Nostalgic now: remember giving my measurements for my uniform.
Said Auxilia Miranda: Can't believe he is still stitching for our school … He was such an active man .. remember the days he used to be at the school campus taking measurements for costumes for all school events ..
Said Rajashree Sharath; Nostalgic! He has stitched my uniforms from 1968 to 1982 and then for my daughter Shruti Sharath from 1991 to 2005 . We owe a lot to him
Said Sheetal Mehta; Nostalgic…I had my uniforms stitched by him from LKG to 12th Std…..I passed out in 2000.
Eros Tailor can be reached at 7358341754.