Hema Shankar of Seethammal Colony in Alwarpet says that a 2015 deluge-like situation has revisited this colony and GCC has not dome much to come to the rescue of residents here.
Posting a video of the water level in her campus and on the street, Hema says the "water has risen to hip level" and unless the road is dug to create a temporary drain, the water will not drain out.
This colony was among the worst affected in the Mylapore zone in the 2015 deluge.
Residents of P S Sivaswamy Salai are also witnessing what took place in the deluge too.
Even as overnight rains flooded this key road, it
has been closed to traffic by Traffic Police. It is now flooded end to end.
This morning, the areas where drains are absent or badly designed or not integrated well with the local drainage system were flooded.
But in the heart of Mylapore, as has always been, rainwater ran off, leaving streets dry.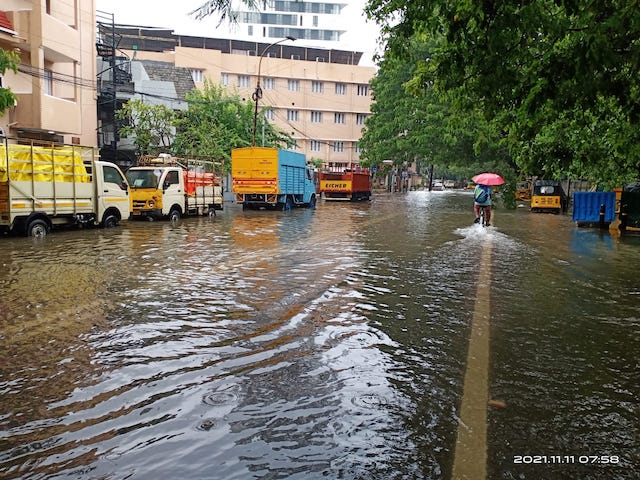 Branches of many avenues trees have fallen by roadside. GCC officers have asked people not to walk in the open in areas thick with trees in cyclonic weather – branches/trees may crash down any moment.
Photos: Top >> C P Ramaswamy Road.  Bottom: South Canal Bank Road
WATCH VIDEO: