The centenary of a celebrated theatre personality,  Poornam Viswanathan was celebrated on November 15 at Bharatiya Vidya Bhavan in a grand manner.
The family members of Viswanathan and members of Poornam New Theater and Gurukulam in association with Kartik Fine Arts and the Bhavan arranged this event.
The programme commenced with the screening of a documentary on Poornam Viswanathan, produced by Mudhra.
K N Ramaswamy, director, Bhartiya Vidya Bhavan spoke about the great qualities of Poornam Viswanathan and said the Bhavan will offer a space in its premises for rehearsals to the drama troupes totally free of cost.
The guests of honour were theatre person Kathadi Ramamurthy. He said, "Poornam Viswanathan always attended all the dramas with his wife and gave great support to the drama troupes with his encouraging words."
Vasanth S. Sai, film director, recollected how emotional he became after seeing the play ' Oonjal ' in which Poornam Viswanathan gave a sterling performance . He also touched on his performances in three of his movies including his debut film Keladi Kanmani.
Poornam Viswanathan's wife Suseela Poornam Viswanathan graced the function with her presence and did so despite her weak health condition – Vasanth Sai asked the audience to give a standing ovation to her and the audience happily obliged with a thunderous applause .
The Poornam Viswanathan Centenary Award was presented to T D Sundararajan, senior theatre artiste for his contribution to the world of theatre. The award was given by Dr. R. Nataraj, former director general of police. The award was sponsored by Rama Kamalam Trust .
Nataraj spoke of his uncle – Poornam Viswanathan. He said Viswanathan came to the position of such greatness with lots of dedicated hard work and sincerity. He recollected when he became the Commissioner of Police of Chennai , how happily his பிரியமான சித்தப்பாவும் , சித்தியும் came to their home to convey their happiness and best wishes.
Siddharthan, son of Poornam Viswanathan rewound days spent with his father – his appa's daily routine of writing a dairy, his dining table interactions with family members, his style of writing inland letters when he was studying in BITS Pilani and his meticulous way of keeping accounts and his sense of humour.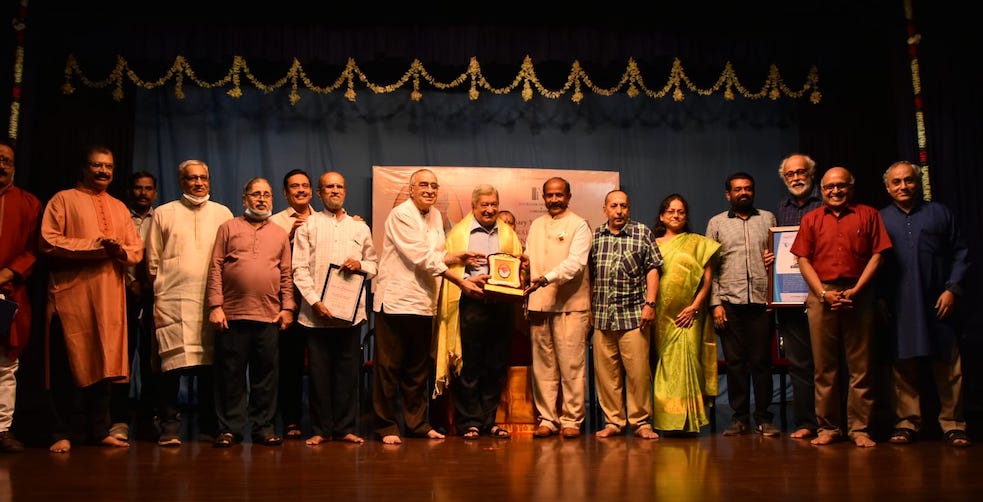 Kartik Sekar, the secretary  of Kartik Fine Arts spoke about the long term association of his father, Rajagopal and Poornam Viswanathan and and pledged Kartik Fine Arts' continuous patronage to all art forms.
AwardeeT D Sundararajan gave an acceptance speech and S G Karthik of Gurukulam proposed a vote of thanks. C V Chandramohan compered the programme in his inimitable style.
A short Thamizh play, 'Vandhavan ' written by Sujatha and directed previously by Poornam Viswanathan was performed by the team members of Gurukulam. Viswanathan's association with writer Sujatha was close and their combination produced  successful plays like Kadavul Vandhirundhaar , Dr Narendranin Vinodha Vazhakku, Adimaigal and Oonjal.