This was an occasion to honour leaders of this R. A. Puram community.
At the  recent AGM, Raja Annamalaipuram West Residents' Society (RAPRA) honoured with a citation and shawl the senior citizen couple, K V Rajan and Hema Rajan as well as senior K . Gopalan.  Selvaraj of Aruanchala Impex was given the RAPRAITE of the Year award.
The 6th Annual General Body Meeting was held on December 19 at Raja Muthiah School, Srinivasa Avenue, R A Puram.  Society President Dr. R. Chandrasekaran  listed the activities carried out during  the year and pointed out the plans ahead for RAPRA. M. Lakshikantham, former headmaster of Raja Muthiah School who was nominated the returning officer announced that the present team of office bearers was elected unopposed for another term.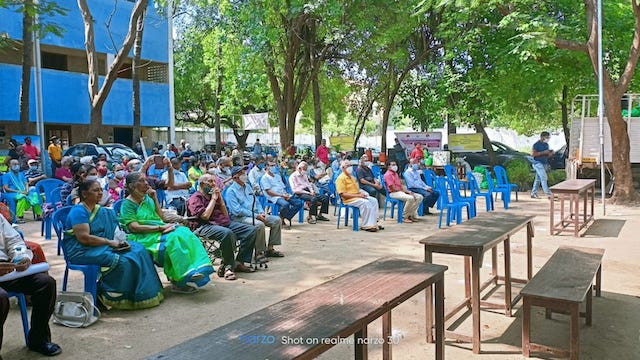 This was a low-key AGM. Before the start of official business, members visited various stalls set up for the occasion. Kauvery Hospital team arranged to check their blood sugar and BP. Horticulture and Sungudi saree sales stalls were also the attractions.
Inputs for this came from RAPRA.
You too can mail local area events reports to Mylapore Times. – mytimesedit@gmail.com