He looked up at the wall clock on the gallery. It lets artistes on stage know the time.
It was 8.47.
"Its going to be 9," he said, as if to tell the audience he would wind up.
He started to sing, broke and asked,"Can we go till 9.10?"
People in the front rows nodded. And he continued. He had started at about 6.30 p.m.
T M Krishna, Carnatic music vocalist had a full house for his concert at Bhavans in Mylapore. It was expected. Krishna has given up performing during the December Season for some years.  This evening's was a surprise then.
On December 11 evening, the Narada Gana Sabha auditorium was also full. And the artiste on stage was Sanjay Subrahmanyan. This top ranked artiste was giving his first concert of the December Season and it was ticketed. For Sanjay and for his rasikas, it was a unique experience.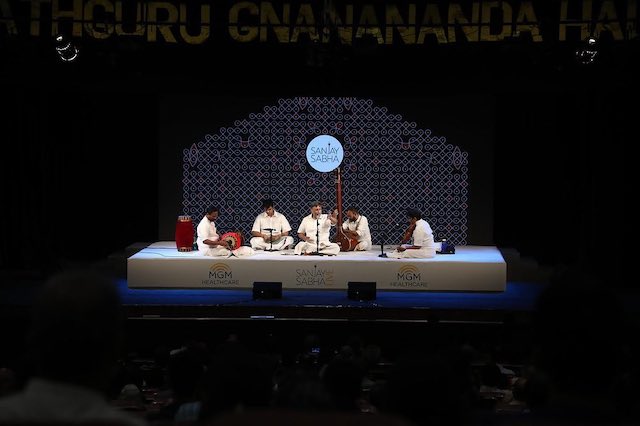 As Sanjay jotted on his social media page – Yesterday was an emotional experience for me, for us and looking at your response for you too!! This is what we were all waiting for. A return to normalcy, a December music season and a few concerts for me to get back on stage and be with you all. I woke up this morning hardly able to sleep from the 'high' of the previous evening . . .'
Sanjay has a few more concerts ( ticketed, online booking) at city sabhas and these are all independent of the standard sabhas' calendar. Curated and presented under the Sanjay Sabha banner and designed by Bhargavi Manii.
Photo of Sanjay's concert accessed from his Facebook page
<< CONCERTS CALENDAR for concerts in Mylapore is posted online. Look for the link at https://www.mylaporetimes.com/december-season-2021-schedule/