A big attendance for a classical dance concert is always heart-warming for artistes on stage.  Bharatiya Vidya Bhavan's main hall was almost full for the 7 p.m. dance on Thursday evening, the day the annual dance fest for the Season was launched.
Guru Urmila Satyanarayanan and her dancers presented 'Godha', yes themed on Kothai and timed for the start of the margazhi season. Most people in the auditorium were girls who learn dance at Urmila's academy and their parents but they sat through the performance that ended a shade after 9 p.m.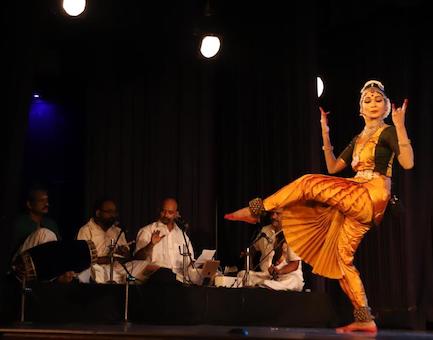 Earlier, dancer Kayalvizhi Kapilan presented a solo Bharatanatyam recital. And much earlier, was the formal launch where Apollo Hospitals' Preetha Reddy and dance guru Padma Subramaniyam, Nalli Kuppuswami and N. Ravi were on stage.
Bhavan's head K N Ramaswamy says this festival ( it runs till Dec.26) has two recitals on weekdays and three on weekends and is open to all. It is also web streamed on www.bhavanschennai.org