Organising an alumni get-together is exciting, frustrating and demanding all at once. But once the party rolls, the spirits of the group rise and rise and bonhomie warms many a heart.
The 1971 SSLC batch of P. S. High School (North)  celebrated its golden jubilee alumni year on November 28 in 2021. It was planned for an earlier date but the steady monsoon spoilt the first plans.
The rains kept the hosts guessing but the group went ahead and kept its date at a private venue in the city. The group made sure all their teachers who could make it were also present that evening. And the spouses of the alumni were also invited to join the party.
N. Rajasekar welcomed the teachers, batchmates and their spouses.
Teachers who were no more were represented by their family: P. Krishna Rao and Vidya represented P. N. Seshagiri Rao.  M. Balasubramanian, who could not make it due to his age, deputed his son B. Sundar to take part.
Krishnaprasadh conducted the day's event which began with the lighting of a kuthuvilakku by the teachers, and offering  of flowers to an image of Kanchi Maha Periyava.  The community here also observed a minute of silence as a mark of respect to the departed, both teachers and classmates.
The teachers were honoured with a shawl, dry fruits and sandalwood garland by V. Viswanathan, V. Vijayakumar and K. R. Raghunathan. Batchmate S. S. Varadharajan brought special prasadam from Tirumala and this was presented to the teachers.
Among this alumni group are engineers, doctors, scientists, chartered accountants and businessmen, says N. Rajasekar.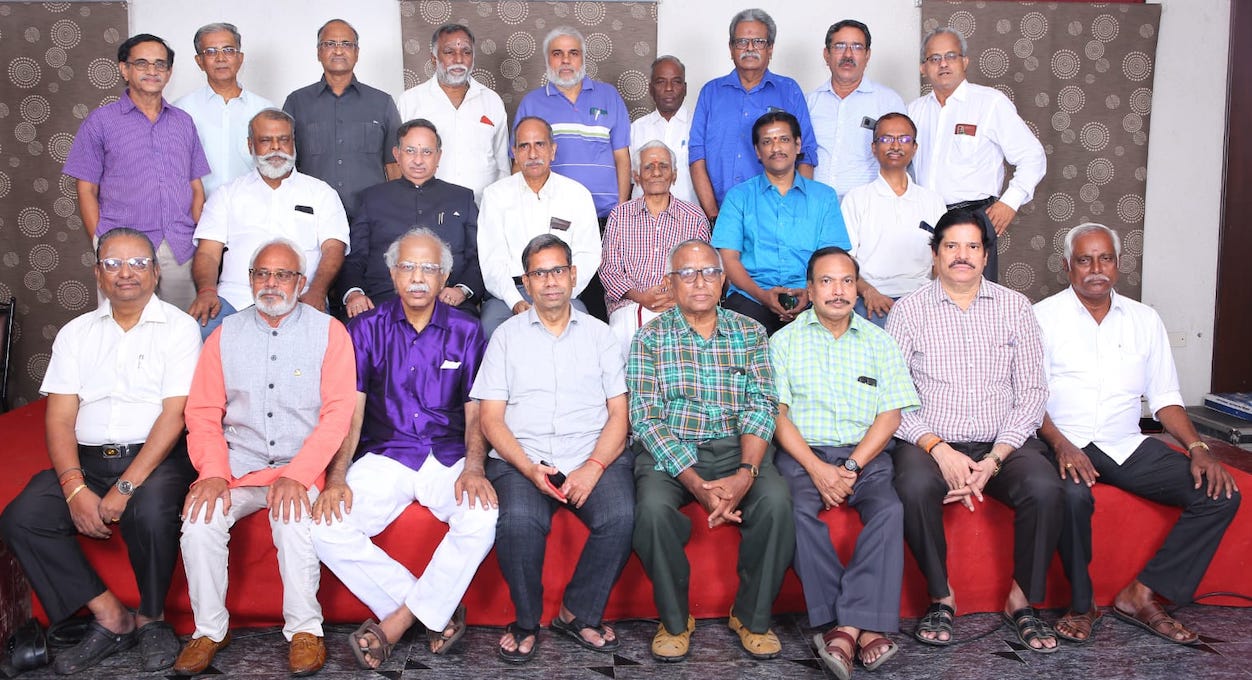 The party was put in a lighter mood with a light music concert, featuring singers Delhi Prakash, Damodharan Badri Srimati and Sneha – their songs of the 1970s were just the sort that set the mood for this evening, one that rewound the batchmates to their teen years.
And as dinner was partaken, anecdotal stories did the rounds at this hall.
These were the co-ordinators of this get-together: V. Krishnaprasadh, S. Chittibabu, R. Murali, S. Muralidharan, K. Radhakrishnan and N. Rajasekar .
Group photo caption
Sitting front row / L – R:  C. Kannappan, V. G. Sridhar, S. Gopinath, R. Murali, K.R. Raghunathan, S. Chittibabu,  V. Vijaykumar, V. Ethirajan
Sitting, middle row/ L – R : N. S. Sivasankaran, V. Krishnaprasadh, A. Venkatesan, K. Ramasubramanian, B. Murali (s/o M Balakrishnan), S. Krishnan Rao (s/o P. N. Seshagiri Rao)
Standing / L – R : K. Radhakrishnan, V. Murali, C. Somasundaram,  S. Muralidharan, S. Mohan, K. Ananda Kumar, Jayakumar, N. Rajasekar
Inputs for this report came from N.S. Sivasankaran