This was an annual tradition Carnatic music artistes have honoured in this space in Mylapore over decades. The celebration of Carnatic music composer Thyagaraja on the day of his samadhi by singing  a set of his of kritis.
This morning ( January 22), the stage was arranged at Sri Thiagaraja Sangeetha Vidwath Samajam in Thyagarajapuram, close to the Sri Madhava Perumal Temple.
While artistes – vocalists, instrumentalists and percussionists – settled down in the Samajam's large hall, priests conducted rituals for the image of Thyagaraja in a permanent sannidhi, with a series of abishekams.
A small group meanwhile walked down to the venue, dramatising the practice of sadhu-artistes of another time, singing in the open street.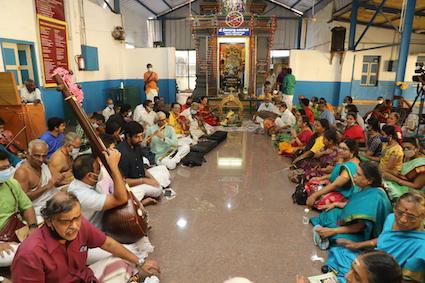 Thereafter, all the artistes, over 100 on a rough count sang the popular pancharatna kritis of Thyagaraja. In unison.  Among those participating were many artistes who are closely associated with this samajam.