The R. A. Puram Post Office, once located at the corner of R. K. Mutt near the MTC's Mandaveli bus terminus has now opened at a new address on R. K. Mutt, closer to the Mandaveli Post Office.
It is in a new complex opposite the Dina Thoothu newspaper office.
Senior Superintendent of Post, Dhivya did the honours of the inauguration here this January 24 morning .
All service counters for the public -sale of postage articles, Speed Post and Parcel Post bookings, Post Office savings and the rest are located on the ground floor. The first floor is for collection and sorting of mail, for postmen and others' duties.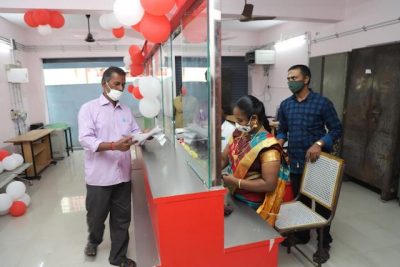 The PO is open 9 am to 2 pm to the public, Monday to Saturday, with some services curtailed on the weekend.
All services offered at the previous address continue here, said a PO staff.
"The old premises had turned really old and we faced flooding issues during the rains, " said a staff. "This one is airy and new, good for people and for staff."
At 121, R. K. Mutt Road. The phone line is yet to be transferred here.