No, sorry. no.
People were not allowed into the tank on Day Three of the teppam fest of Sri Kapali Temple this evening.
Temple officials had planned to allow people in today but they now say local police said a firm 'no' to that idea and so, it had to be no. The firm 'no' because of pandemic time regulations in place now. And this is what it had been the past two evenings too.
People remained on the edge of the South Mada Street and R K Mutt to pray as the procession made its way from the temple to the tank and the gods were set inside the decorated float.
Hawkers said a prayer from their seats or made a symbolic offering from the sides as police men and women kept the crowds away.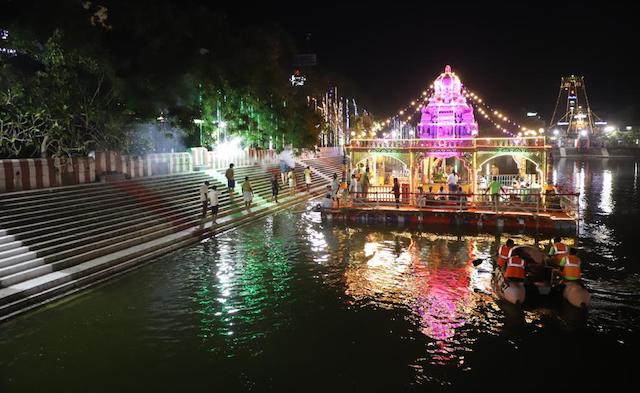 And since the steps on all four sides of the temple tank were without any people seated here, as on the previous two days, the volunteers could manoeuvre the float across all sides of the tank on the 9 rounds that made the 3rd teppam day.
Over a 100 devotees stayed back past 10 pm on Wednesday evening for the return procession of Singaravelar.
Once inside the temple campus, the Sri Patham personnel presented the snake dance much to the delight of the devotees.
It was almost 10.30pm when Singaravelar, after another special dance in front of the Ambal sannidhi, made his way back to his abode.
The priests were not yet done for the day. While one set of the priests got down to removing the alankaram and the jewels of the processional deities and placing it back in safe custody, chief priest Venkatasubramanian Shivachariar performed the artha jaama pooja at Swami, Ambal and Singaravelar sannidhis.
The regular devotees were present for the pallakku procession inside the temple as part of the pooja.