Every year, in the days leading to the start of the annual Panguni Brahmotsavam at Sri Kapaleeswarar Temple, women make a special offering to Kolavizhi amman at her temple in Mylapore.
This ritual was held on Sunday morning, February 27.
1008 pots of milk were kept ready at Sri Kapali Temple and all the women who had chosen to carry it in a procession came in a queue, picked up a pot and joined the procession of women at Sannidhi Street.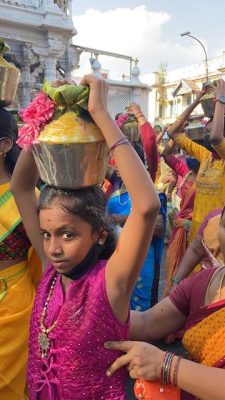 A decorated image of Kolavizhi amman was carried in this procession that then vended its way to the amman temple on the other side of Kutchery Road where the long-drawn milk abishekam was carried out, in an orderly way.