On a very hot, sweaty Sunday (April 10) afternoon, 22 year old Ashwin Bhattar, who is just finishing his masters in commerce, silently worked behind the screen for a couple of hours in decorating birthday boy, Lord Rama for the evening procession on his favourite Hanumantha vahana.
As the screen opened at 5.30pm at the Madhava Perumal Temple in Mylapore, devotees were delighted to see Rama in a silk green vastram with a beautiful glittering necklace across his chest.
The young priest added a special touch to the decoration with a special 'Kodi Sampangi' flower garland that he placed on Lord Rama.
90 minutes of sacred verses
The celebratory evening began with a 90 minute presentation by the Prabhandham members of Kulasekara Azhvaar's verses in praise of Rama followed by the final canto of Nam Azhvaar's Tiruvoimozhi.
By the time they completed their presentation, a sizeable crowd had gathered at the temple eagerly looking forward to the only procession of the Rama Navami utsavam.
Three rounds inside the temple
Just after 7pm, the Prabhandham members were back to lead the procession with their presentation of the sacred verses of praise on Ramanuja.
Devotees were delighted to watch Lord Rama take a majestic princely walk around the temple complex carried effortlessly by Hanuman. A bunch of young Vedic students followed the Lord chanting the Vedas.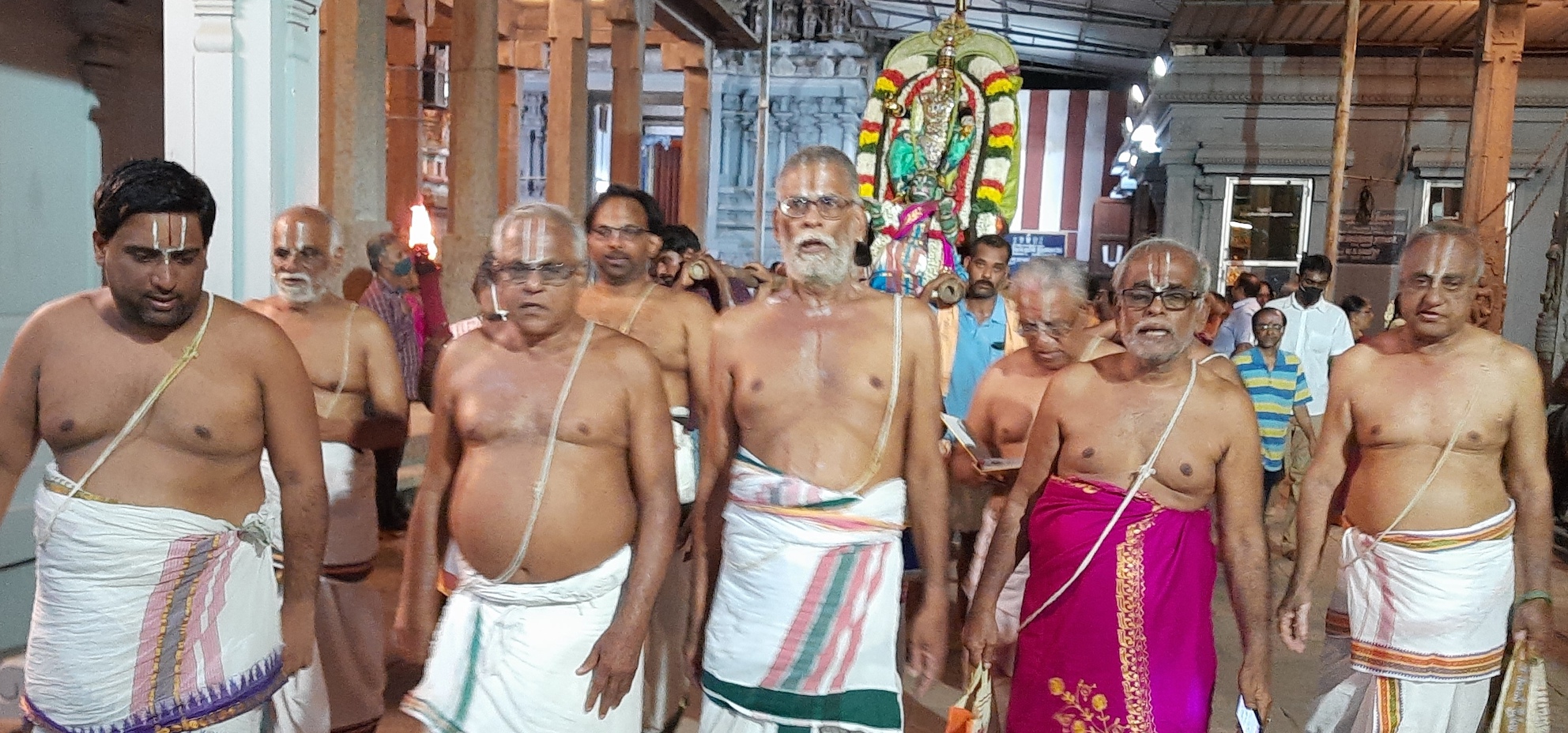 After three rounds inside the temple, people present were presented with a tasty puliyotharai as prasadam.
A few young girls then presented some songs in praise of Lord Rama, bringing to end the ten-day Rama Navami Utsavam at the Madhava Perumal Temple.
Report, photos by S Prabhu