On the sands off Srinivasapuram on Saturday evening, some 20 children exhibited the craftwork they had learnt over four weekends.
Picture frames, key chains, craft from waste and paper bags. At dusk, the display not only drew parents of the little ones but also local residents and children, curious and happy at the work of their own.
This show was the culmination of the first Crafts Meet organised by Mylapore Times Charitable Trust (MTCT) in this area.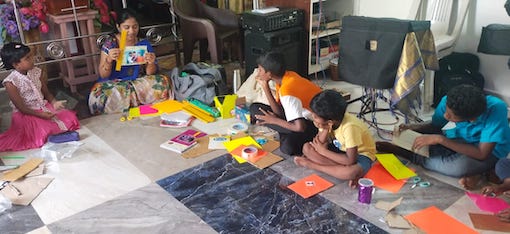 Kolavizhi Vaidhiyanathan, a Mylaporean and a Fevicryl certified professional handled the Satuday evening classes held at a prayer hall a local pastor was happy to share for this activity.
Social worker and local area resident Kavitha Benni co ordinated the camp where 20 girls and boys participated in all four weeks.
Kavitha says she has asked the children to practice the crafts and explore ways to even sell them locally.
MTCT intends to run another Crafts Meet after a short break, at the same place for a new set of children.
MTCT is funded by Mylapore Times and by well-wishers of Mylapore via donations.