To celebrate Guru Purnima, Sri Kala Ranga School of Dance dedicated a thematic Bharatanatyam presentation on 'Abiramiyin Arul Atral' at Sri Kapaleeswarar Temple, on July 16.
Says a note from the school – After a few introductory dance pieces, the dancers presented the story of Subramaniya Iyer, who was obsessively devoted to goddess Abirami. When the local King Serfoji asked on a new-moon day if Subramanya Iyer knew what day of the lunar month (thithi) it was, Iyer sees in his mind's eye the face of the Goddess glowing like a thousand moons and blurted out that it was a full moon day.
The King ordered that Iyer should be suspended on fire and thrown into it if the moon did not rise as per his words. Iyer then started writing hymns in praise of Abirami. Pleased by his devotion, Goddess Abirami appears and throws one of her
earrings into the sky that shone like the full moon. The entire towns is taken aback and offers salutations to Subramanya Iyer. A new-moon night turns into a full-moon night. Subramanya Iyer becomes Abirami Pattar.
Each verse of the hymn starts and ends with the same word and hence is aptly called 'Abirami Andhaadhi'. The different forms of Devi was also elaborated during this scene.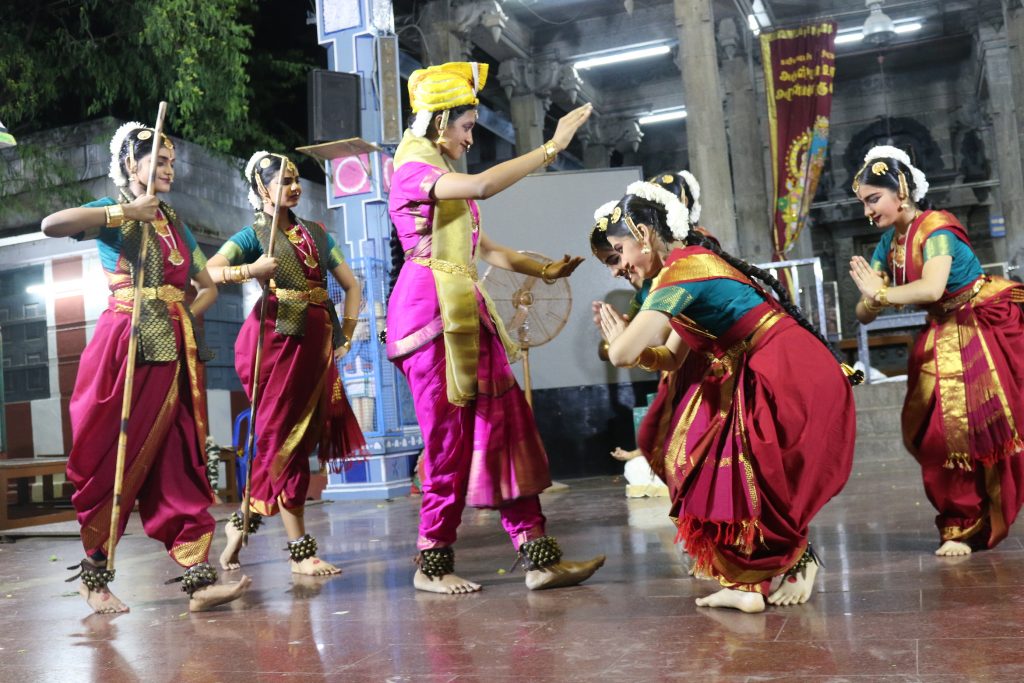 The dancers were Anerudh Srinivasan, Adithi Chandramouli, Sanjana Ashwin Kumar, Sanjana Satish, Sadhana Satish, Muthraa Ramanabalaji, Pritika Devarajan, Sanvi Baranwal, Nikhita Ayyappan, Aashithaa Devarajan, Saadhana Moorthy, Priyamvatha Ramaswamy and Srithika Kasturirangan.
Sri Kala Ranga School of Dance in Mylapore is run by Dr. Srithika Kasturirangan a disciple of Dr. Ambika Kameshwar. Srithika can be reached at 99406 31757.