Colour and joy marked Aadi Perukku celebrations held today ( Aug. 1 ) at Dr. MGR-Janaki Arts and Science College for Women in R A Puram, an annual looked-forward-to event.
Students were clad in traditional half-sarees and sarees which added more colour to the event.
Some floated earthen lamps in the pond set up for the festivity; others tucked in on a variety rice including chitra annam and some home-made delicacies; there were girls carrying mulaipari of navadhanyams; others got into pooja rituals. . .
The highlight of the event was the 'sandhai' recreated on campus – with bangle sellers, parrot fortune-telling nooks, mehendi and cotton candy vendors, porridge counters  which lent a flavour of a village atmosphere.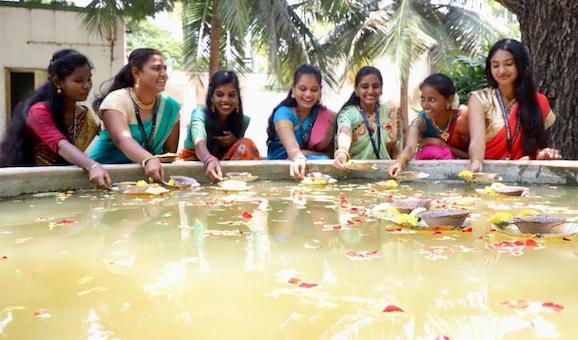 Students performed traditional folk dances – Karagattam, Oyilattam and Kummi. District-wise cultural dress competition for students across departments were held.
"Celebrations like this will help younger generation know our tradition and pass on it to future generation." said Dr. Kumar Rajendran, chairman of the college.
Report based on media release from the college