After a two hour procession around the Mada Streets, a 'big fight' erupted between Karpagambal and Kapaleeswarar and it was left to Sundara Moorthy Nayanar to mediate and bring them together again.
The episode from Thiru Oodal Puranam was played out late on Friday evening a day after the flag was brought down at the Panguni Utsavam at Sri Kapaleeswarar Temple.
It all seemed fine on Thursday evening with the grand Thiru Kalyanam and  late night Ravana Vahana procession to the tunes of Mukha Veena (https://www.mylaporetimes.com/2023/04/curtains-come-down-on-panguni-utsavam-ravana-carries-sri-kapaleeswarar-in-procession-to-tunes-of-his-favourite-mukha-veena/).
24 hours later as it so often happens with couples, Karpagambal took strong objection to Kapaleeswarar holding Ganga secretly atop his head.
Just after 10pm, all of a sudden Karpagambal shot past Kapaleeswarar to the 16 pillar mandapam while he stayed back near the chariot, shocked at this sudden and hasty retreat of his consort.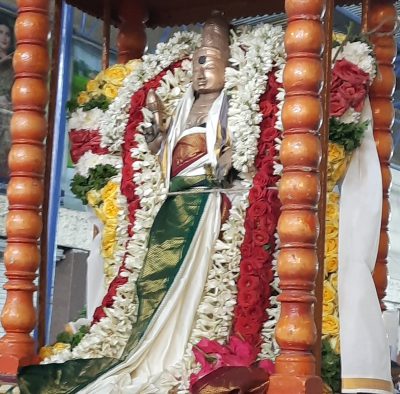 Enactment of Thiru Oodal
It was then that Kapaleeswarar pulled in his friend and one of the four famous saint poets, Sundara Moorthy Nayanar ( photo above) to check the reason for Ambal's anger and to bring her back.
For the next half hour or so, this historical episode was played out between the 16 pillar mandapam and the chariot side with Sundarar going back and forth between Ambal and the Swami playing a conciliatory role.
Sannidhi Street ( square) seemed like a live drama stage.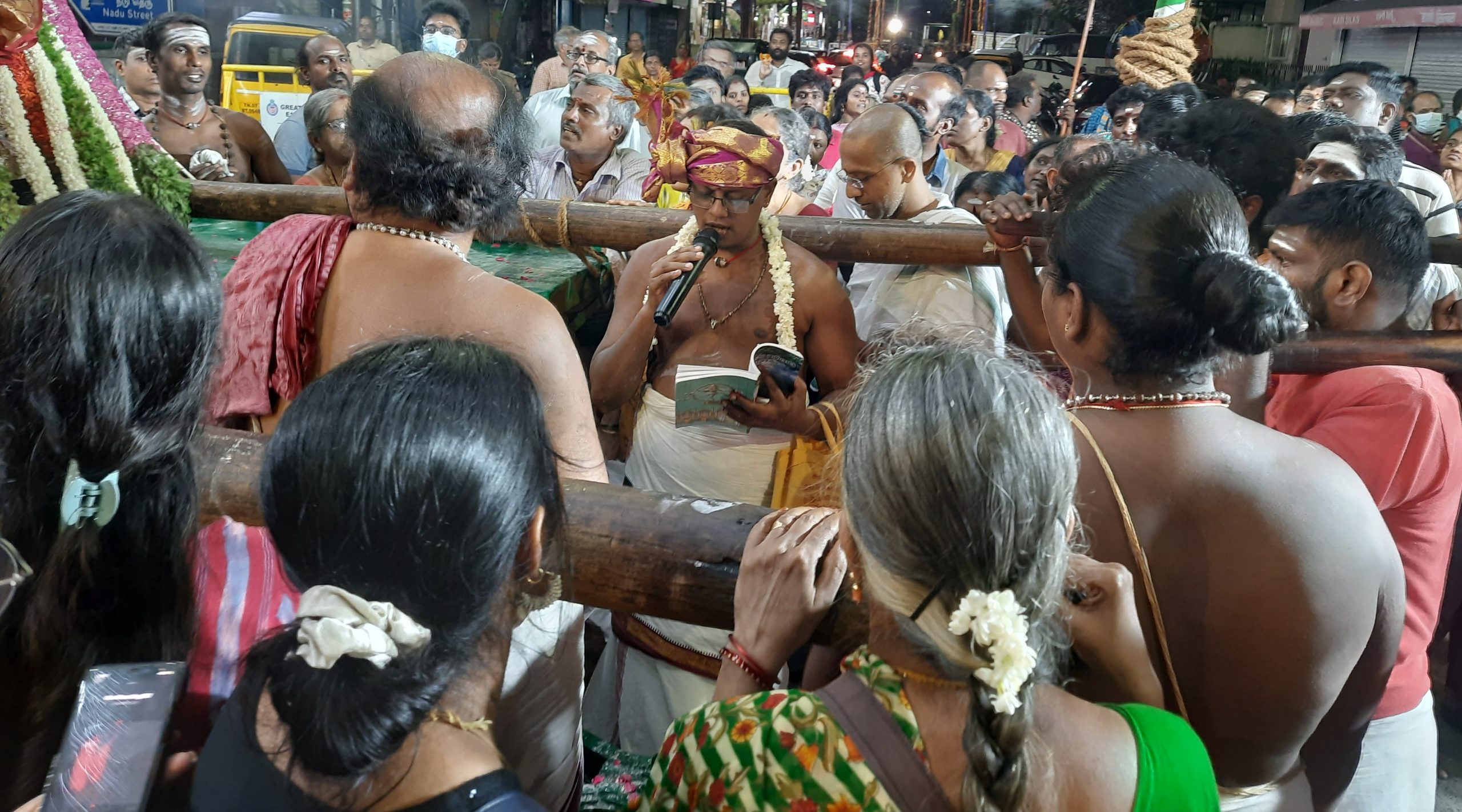 Othuvar Vageesan anchored the enactment, reading out Ambal's message to Kapaleeswarar and his defense to Ambal. ( photo above)
While Ambal reasoned that the Lord having Ganga secretly on his head was unpardonable,  Swamy said he had tanned waiting in the hot sun.
Finally Kapaleeswarar asked Sundarar to play out the Saama Veda before Ambal to cool her reasoning out that even Ravana did so after he was crushed under Mount Kailasa by his big toe.
After three rounds, Ambal finally relented and made her way to the chariot side to take her place beside Kapaleeswarar much to the delight of the bunch of devotees who had gathered near the chariot to watch the enactment of this episode.
It was past 11pm when the Pancha Moorthy idols made their way into the temple.Interestingly, only this Wednesday morning, on the occasion of Panguni Uthiram, a similar episode was played out at the Ranganathaswamy Temple in Srirangam with Nam Azhvaar playing a mediatory role to sort out the differences between Ranganthaswamy and Ranganayaki Thayar
– Story, photos by S Prabhu