The jam-packed auditorium of Bharatiya Vidya Bhavan, Mylapore for Sunday's play of the annual drama festival was treated to a different kind of theatre. By Theatre Marina which is known for its unique productions.
'Thiruarangan', the play ran on three threads. The action at the Indian embassy team in 2018 in Moscow, a romance taking place in 18th century Russia and around the same time, life limping back in Srirangam in Tamil Nadu after the end of the Carnatic wars.
Mostly historical fiction, script writer Jayaraman Raghunathan wove some thrill and suspense as the drama, though mostly centred in Srirangam and the great temple dedicated to lord Ranganathaswamy, swung between the three stages.
With a large cast, with music and songs and snappy dances, the production was an earnest attempt though it had its slips, amateurishness and odd blips.
A better pace would have enhanced the roll of the action which finally ends with the focus on one thing – a unique diamond that was part of the Lord's jewels in Srirangam temple, which was stolen/lost, passed through many hands locally and abroad, was gifted to Catherine the Great in Russia and today, in in Russia's ownership.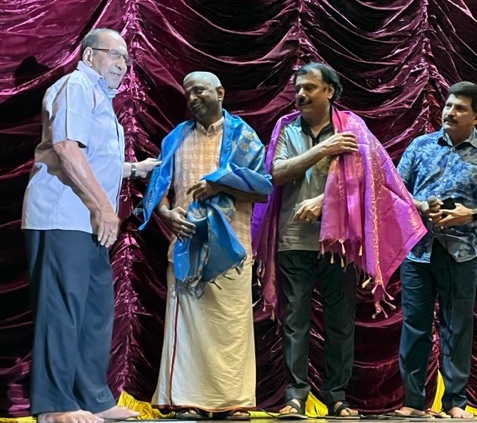 "Like the Kohinoor, will this Orlov diamond be restored to Srirangam temple?", asked Raghunathan, at the curtain call.
The play was directed by R . Giridharan and produced by Keerthi Mariappan.
Second photo shows theatreperson Kathadi Ramamurthy felicitating the writer and director of the play.