Arts promoter and philathropist, R. T. Chari got up an event at the TAG centre in Alwarpet on Sunday evening ( June 25) to celebrate the life and work of Randor Guy, writer-historian, film-maker and raconteur of the city, who passed away recently.
There were three parts to this tribute meet.
First,  there was a simple release of a book that Chari has funded. Titled 'Evolution of Tamil Cinema — Interviews conducted by Randor Guy for NFAI, Pune', this book contains Randor's lengthy interviews, most of them in Thamizh with yesteryear film persons who played a key role in regional cinema.
Interviews of actors S. V. Sahasranamam and V. Gopalakrishnan, music director S. V. Venkatraman and
cinematographer M. Masthan besides a few others are featured in the book.
Randor had undertaken this archival assignment for the National Film Archives of India (NFAI); it was transcribed and translated into English and uploaded on to the NFAI site.
 T. S. Gopal has edited these interviews and compiled them for the book, which was printed by Compuprint.
At the release, Randor's daughter Priya received the first copy. Also on the dais were  Jayashree Kumar, daughter of late film director S. Ramanathan and Parakalan, son of late film director A. S. Nagarajan; both stalwarts are featured in the book, which was formally released by writer-historian V. Sriram.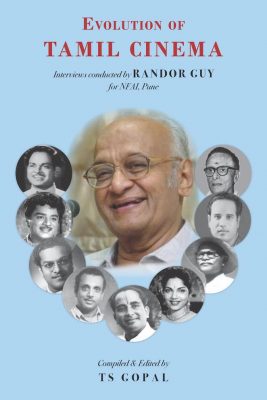 Then, a video compilation of the most popular and noted songs in early Thamizh movies, with Randor's backgrounders on each song was screened; T. S. Gopal did the hard work of editing a longer version of this film which Chari had assigned some years ago.
Finally, V. Sriram spoke on Randor, whose name at birth was Rangadurai – his early life and writing career, his signal contribution in documenting through his writings, social, legal and film histories of this city and of the Madras Presidency.
"Sadly, neither the state nor or central nor film agencies recognised and decorated Randor," said Sriram.
The book is on sale online, on Amazon.