The first area sabha meeting open to residents of the Jeth Nagar zone inside Ward 126 will be held on July 29, Saturday at Narayaniammal Kalyana Mantapam in the nagar.
This meet is for area one of GCC ward 126 in zone 9 ( Teynampet) and its starts at 10 a.m. It will be on till noon.
Area sabha meets, which should have been started long ago, allows residents to not only choose local leaders to represent their streets and local issues but provides meet-ups for people to discuss civic issues and plan action at the micro-level.
Each ward is divided into 10 areas and each area has to have 10 local reps which must be a good mix of local people.
Ward 126 councillor Amirda Varshini says that at the meeting, the ten reps will be introduced and then people of this area can present and debate issues that need attention.
Engineers / officials of state agencies like Metrowater and GCC whose jurisdiction covers the area will also be asked to be present.
Amirda says a log book of the main issues discussed will be kept.
She says she hopes to have meetings for the other 9 areas of her ward as soon as possible.
Below are the streets that fall under Area 1 of this Ward for whom the meeting is organised –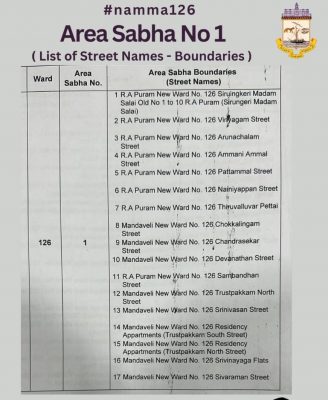 Photo of meeting by councillor to plan area sabha meet. Photo courtesy; Amirda Varshini