On September 10, the Mylapore Sai Samiti unit community celebrated its 55th anniversary in Mylapore.
The day commenced at 5 a.m. with the Nagara Sankeerthan, with members singing bhajans as they walked down the Mada Streets around Sri Kapali Temple.
The other events were held in the Lady Sivaswamy Ayyar Girls  School.
The Bal Vikas children enthralled the audience with skits, music and recitation of the Vedas.
The state president of the Sathya Sai organisation, Chandrasekar, a Mylaporean, addressed the gathering and congratulated the children on the performance of ashta pushpangal .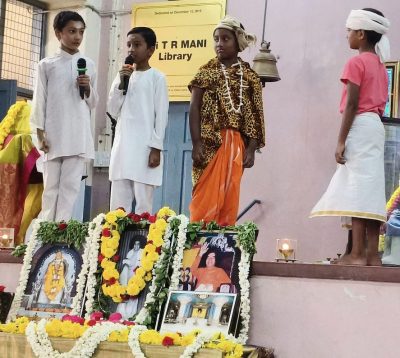 After the mangala arathi, narayana seva took place .
Many senior Sai devotees, including former custodian of 'Sundaram' Sai Temple in R. A. Puram, S. V. Iyer, participated.
The Samiti members meet every Saturday for bhajans at 6 p.m.
Reported by Malini Kalyanam