The 16 month old Ved Ram Narayan, the child of Ram and Sneha who are based in Dallas, Texas, USA took on the look of lord Krishna for Sri Krishna jayanthi and was everybody's attraction in the Mandaveli apartments where this family is residing on a visit here.
The child's great grandparents and his grandparents stay together at Manasva Apartments on Thiruvengadam Street. And the seniors were happy to have the child around at festival time.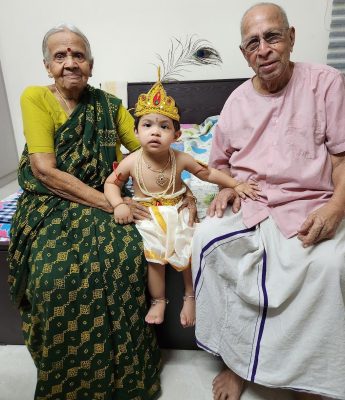 The great grandparents are Ramachandran (98) and Meenakshi Ramachandran (93).
"We performed thatha's kanakabhishekam in October 2022 at Manasva, after Ved was born (4th generation)," said his mother Sneha.
The grandparents are Chandrashekar (67) and Sowmya Chandrashekar (59).
Said Sneha, "We are here for a vacation so Ved can spend quality time with his grandparents. We are glad we could celebrate Avani Avittam and Janmashtami during this visit."