CSI Saint Thomas Tamil Church community in San Thome will observe Dedication Day on Sunday the 22nd of October.
It is the 165th anniversary of this church. Though it falls on October 20th, it will be celebrated on Sunday the 22nd, says secretary of the pastorate committee Esther Jebaraj.
The events have been planned by pastor Rev Dr  Y. Sailas Gnanadas and the pastorate committee
Masses will be held from Monday to Friday at 7 a.m.  at this church.
A gifting draw will be held on all the five days  after the Mass and a 1/2 gram gold coin will be presented to one church member. ( Photo featured here shows the presentation on one recent morning)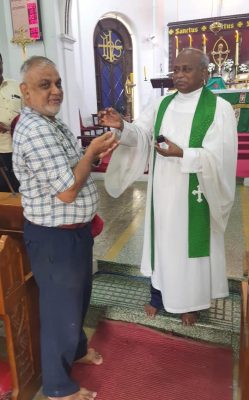 On Saturday, from 8 am to 1 pm, a free medical camp will be held in the church campus which is open to all. Dentists and eye specialists from among the church community will provide free consultation.
At 5 p.m, there will be a tree planting campaign. Free saplings will be given to all church members.
At 6.30 p.m, there will be a music programme by the youth in the church campus.
– Reported by Juliana Sridhar