Elections 2016: Congress announces candidates but holds back name for Mylapore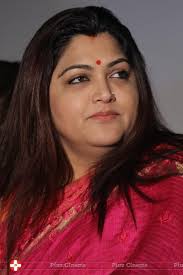 Although the Congress party announced the candidates for the seats where it is contesting for the 2016 TN State Assembly elections, it has withheld naming the candidate for the Mylapore constituency among some others.
The Congress is in alliance with the DMK party.
There seems to be stiff competition for this seat between supporters of film star and party spokesperson Kushboo ( in photo) and former young unit leader Karate Thygarajan – both are residents of south Chennai and are known in the Mylapore area.
This entry was posted on Wednesday, April 20th, 2016 and is filed under
Elections 2016
. You can follow any responses to this entry through the
RSS 2.0
feed. You can skip to the end and leave a response. Pinging is currently not allowed.