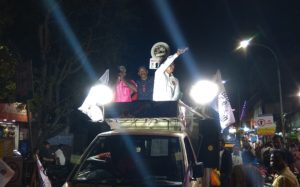 On April 5 evening, Makkal Needi Maiam (MNM) candidate for South Chennai R.Rangarajan, a former IAS officer campaigned at R.K.Mutt Road and other parts of Mylapore.
The party is headed by actor turned politician Kamal Hassan.
The volunteers carried the party's flags and distributed pamphlets that had the key points of the party's manifesto.
One woman who received the pamphlets was talking to her friends. She said, "It's good to see an IAS officer among the candidates." Later the group was considering to change their minds and cast their votes for Rangarajan.