Army Public School winners of 'Streetscapes' PP contest; Madras Day event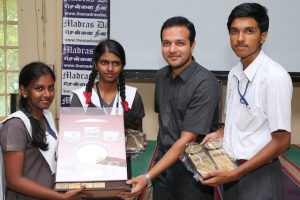 Army Public School, Nandambakkam won the top prize at the annual Madras Day event – Power Point Presentation Contest on Chennai Heritage.
This year, the theme for research was – Streetscapes.
Army's team of Christy Deborah Paul, Jacob Mathew and Janani Swarna ( seen in the photo) looked at Butt Road in St. Thomas Mount – its history and evolution, its landmarks and its life today and impressed the two judges – journalist-publisher Vincent D' Souza and architect Tahaer Zoyab.
The 2nd prize went to the team of Vidya Mandir, Mylapore
Swaminathan. K, Tejas S K and Akshitaa . S R.
The 3rd prize was won by PSBB Senior Sec School, K K Nagar. The team – Harsith R, Vishal R and Gowrishankar S.
13 schools took part. Each team explored a street of the city they chose and presented their findings with a PP presentation.
The event was held at Sastri Hall, Luz on August 23, and the hall was provided free by SINA. The event was supported by Mylapore Times newspaper.
This entry was posted on Wednesday, August 24th, 2016 and is filed under
Madras Week
. You can follow any responses to this entry through the
RSS 2.0
feed. You can skip to the end and leave a response. Pinging is currently not allowed.