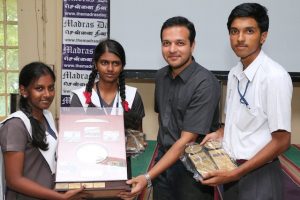 Army Public School, Nandambakkam won the top prize at the annual Madras Day event – Power Point Presentation Contest on Chennai Heritage.
This year, the theme for research was – Streetscapes.
Army's team of Christy Deborah Paul, Jacob Mathew and Janani Swarna ( seen in the photo) looked at Butt Road in St. Thomas Mount – its history and evolution, its landmarks and its life today and impressed the two judges – journalist-publisher Vincent D' Souza and architect Tahaer Zoyab.
The 2nd prize went to the team of Vidya Mandir, Mylapore
Swaminathan. K, Tejas S K and Akshitaa . S R.
The 3rd prize was won by PSBB Senior Sec School, K K Nagar. The team – Harsith R, Vishal R and Gowrishankar S.
13 schools took part. Each team explored a street of the city they chose and presented their findings with a PP presentation.
The event was held at Sastri Hall, Luz on August 23, and the hall was provided free by SINA. The event was supported by Mylapore Times newspaper.