Overcast skies, gentle rain on Sunday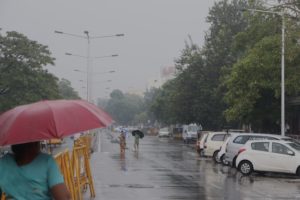 Many parts of the Mylapore neighbourhood experienced very light to a light drizzle or steady rain this Sunday morning. The morning was overcast and a hint of rain.
But the pleasant weather pleased all those who take their morning walks in parks and inner streets.
The concert in the park that is hosted by a community in CIT Colony went through – some 20 people sitting around the young artistes to encourage their effort.
But once the rain began to fall, the umbrellas came out. It rained for a short while though.
This photo was shot on Luz Church Road on Sunday morning.
This entry was posted on Sunday, November 26th, 2017 and is filed under
Monsoon 2017
. You can follow any responses to this entry through the
RSS 2.0
feed. You can skip to the end and leave a response. Pinging is currently not allowed.