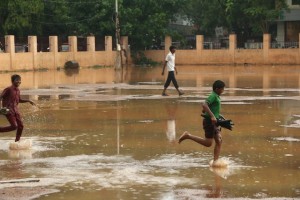 The rains remind people of the need to harvest rainwater.  And some groups are warming up to the idea this monsoon season.
They can turn to the professionally-managed Rain Centre in Mandavelipakkam and its director, Sekhar Raghavan.
Sekhar says in the recent past Alwarpet's Sriram Nagar Residents Association and the community of Raja Street (opposite to Rani Meyyammai school) have approached him to sensitise local residents of the need to harvest rainwater, both within their premises as well as on the road.
Sekhar has also addressed the residents of Sriram Nagar as a follow up measure. "They made me visit seven apartment complexes and advise the people on RWH. I have prepared individual reports along with cost estimate and sent it to them. Hopefully they will get RWH implemented, " says Sekhar.
Raja Street residents have promised to get back with a list of apartments which would be interested in getting RWH systems laid here.
Call Sekhar at 96770 43869 – 10 am to 6 pm.
Photo used here is of the past – rainwater flooding a local playground