Frozen Bottle offers milkshakes at a discounted rate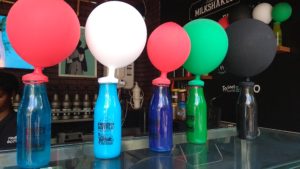 As a part of anniversary week celebrations at Frozen Bottle, Alwarpet the store is offering all its milkshakes (300 ml) at a discounted rate of Rs.99.
This offer started on April 1. The whole store was beautifully decorated with colorful balloons on this day.
"The customers who come and buy the milkshakes from the store can avail this offer," says M.Gopalakrishnan, Branch Manager, Frozen Bottle, Alwarpet.
This offer will be on till April 7 at Frozen Bottle, C. P. Ramaswamy Road, Alwarpet.
This entry was posted on Monday, April 1st, 2019 and is filed under
Restaurants, Food fest, Stores
. You can follow any responses to this entry through the
RSS 2.0
feed. You can skip to the end and leave a response. Pinging is currently not allowed.