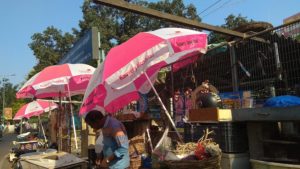 This year, Kauvery Hospital at TTK Road, Alwarpet has given umbrellas with its brand name to the street hawkers in its vicinity.
"A few months ago, as a part of our branding exercise, we surveyed the street hawkers around 4 km radius of our hospital. We asked them to suggest the kind of shelter that would be useful for them. Many of them asked for umbrellas," says a staff from the Branding Department of Kauvery Hospital.
"Hence, we have provided umbrellas to hawkers off C. P. Ramaswamy Road, Eldams Road, and Luz Church Road. We are also planning to extend this to the hawkers who are around 5 km radius of our hospital," she says.
The flower vendors outside Anjaneya Temple, Alwarpet received them two weeks ago. "It is very useful for us in this summer," says M.Raghu, a flower vendor here.
"However, since the stretcher at the upper part of the umbrella is weak. They tend to collapse even if a mild wind blows. Hence we have to continuously look after them," he says.