Elections 2019 : Security in full force outside counting centre at QMC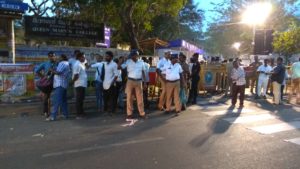 On May 23 evening, security was in full force outside Queen Mary's College (QMC), Mylapore, as the votes for the 2019 Lok Sabha elections for Chennai North constituency and the votes for bypolls of a few TN Assembly constituencies were being counted here.
Many senior police officers from various departments were around to ensure the place was secured using the services of junior policemen.
Some 10 police vehicles patrolled the area from Light House to Labour statue off the Marina.
Party cadres filled the area surrounding QMC at Dr Radhakrishnan Salai. The DMK party supporters were celebrating by bursting crackers as the early trends showed that their party was leading in both parliamentary and Assembly constituencies.
Said a senior police officer (Traffic), "There has been no law and order problem till now. But, the counting stopped two times, which created some tension. Apparently, the EVMs of Perambur Assembly and parliamentary constituency got misplaced because of which counting had to be stopped for a few hours."
This entry was posted on Thursday, May 23rd, 2019 and is filed under
Elections 2019
. You can follow any responses to this entry through the
RSS 2.0
feed. You can skip to the end and leave a response. Pinging is currently not allowed.