Mylaporeans' donations timely help for this young mother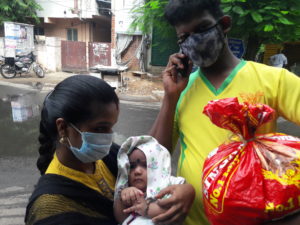 Thanks to the donations made by Mylaporeans, Vijayalakshmi, a young mother at Visalakshi Thotam, who was struggling to even get basic foodstuff had a good meal today.
The donations were made following an appeal from Vijayalakshmi made through Mylapore Times.
Economically poor, the duo was finding it difficult to make ends meet, after the lockdown. And the baby had to be protected and fed.
Her appeal posted on June 21 evening brought good news – four people have donated dry rations and essential veggies.
Said Vijayalakshmi this evening, "We had a good meal after a long time today. I made rasam and keerai poriyal. And my baby son got to have extra milk."
Vijayalakshmi says she has received rice, oil and sugar from the donors. "They also gave vegetables – tomato, potato, onions, keerai and kothavarangai, which is very nutritious for young mothers like me. I also received Cerelac and milk for my child."
The parents says they are thankful for the help.
Community activist Baskar Seshadri and Mylapore Times were among the donors who provided her essentials.
The young mother says further donations are welcome. People who may want to support Vijayalakshmi may reach her at 9345000682
Picture courtesy: Baskar Seshadri
This entry was posted on Monday, June 22nd, 2020 and is filed under
Corona Virus News
,
People
. You can follow any responses to this entry through the
RSS 2.0
feed. You can skip to the end and leave a response. Pinging is currently not allowed.