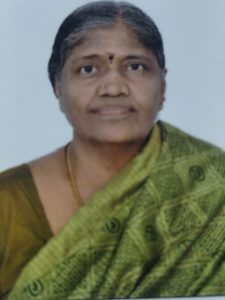 66 year old Ramaa Sarangapani has been a resident of South Canal Bank Road, Mandaveli for almost five decades. About seven years ago, she started learning Hindi professionally through Hindi Prachar Sabha and there has been no looking back since then.
Ramaa, who completed her master's degree in economics from Stella Maris College in 1970,  has always been an avid reader and had a keen ear when it came to learning new languages. When she was young, she would watch Hindi programmes on Doordarshan and pick up new words. That she said really helped when she had to teach her son Hindi at school.
Encouraged by her neighbour, Ramaa slowly started writing the exams once every six months. She would study for atleast two hours everyday. The guides she bought helped. And anytime she had doubts she would drop into her neighbour's house and get it cleared.
After completing all the seven levels at Hindi Prachar Sabha, Ramaa set her eyes on Sanskrit. She approached Sura Sarawathi Sabha at T. Nagar and registered for the first exam. She says, "The first two levels in Sanskrit were quite easy. Level 3 was a little tough. Now I am in Level 4 and it has been the most challenging of all as it is very difficult to study on our own without attending classes or getting notes from teachers. I have contacted a couple of teachers who have promised to help".
She wanted to complete level 4 this August but coronavirus put a dent in her plans. The exams, she says, will most likely be postponed to next year.
Her future plans include learning atleast one foreign language after she completes all the five levels in Sanskrit. 'I will probably start off with French or German', she says.