NGOs do their bit to campaign for wearing masks and keep distances in busy spaces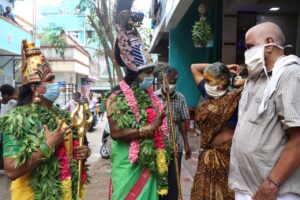 Voluntary bodies are doing their bit to remind people to stick to pandemic time good practices – wear masks properly, washing your hands if you have been using them all over and keeping safe distances in open, public spaces.
Born to Win is one NGO which, in association with Chennai Corporation has been seen active in Mylapore. Its members were seen campaigning in the congested streets of Pattunool Karan Thottam ( PNK Thottam) some days ago – with one volunteer in the costume of an Amman. Recently, theer were a high number of cases in this area.
Earlier, the group's members staged snappy street plays in Thamizh on the mada streets off Sri Kapali Temple.
This entry was posted on Sunday, July 26th, 2020 and is filed under
Community
,
Corona Virus News
. You can follow any responses to this entry through the
RSS 2.0
feed. You can skip to the end and leave a response. Pinging is currently not allowed.