Bakrid celebrations were low key this year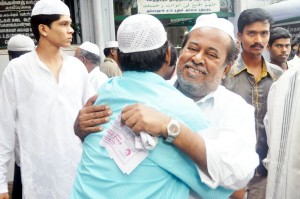 The Muslim community in Mylapore observed Bakrid on August 1 (Saturday).
However, most families in the neighbourhood seem to have kept the celebrations low key, this year.
Says A.M Rahamadhulla, who runs an electrical appliances repair shop at Appu street, "For close to two months following lockdown, we have not had any business. So there was no Bakrid celebration."
Every year, he says his family including his parents, wife and girl child would traditionally make mutton biriyani and special payasam at home. "It was an elaborate affair every Bakrid. We would also go to Jumma masjid at Kutchery Road for prayers. But, now as the mosque is closed, we had to pray at home. To cut down costs, we also chose to do away with homemade biriyani."

However, we celebrated with a bucket-biriyani, he says.
What is bucket biriyani? "It is kind of a budget biriyani. We get it from popular biriyani shops in Triplicane that sell chicken/ mutton biriyani in small buckets  Each bucket will have biriyani, a sweet, kuruma, and side-dish, that would suffice for 6 people."
"A chicken biriyani bucket is priced at Rs. 800. And a mutton one is Rs.1500. I bought a chicken one, and Bakrid lunch was done for my entire family. Now, if we had gone for preparing biriyani at home, the price would have definitely gone beyond this."
Elsewhere, residents at Dargah colony, near Jumma Masjid, Kutchery Road say they bought mutton in limited quantities to make biriyani.
The colony, filled with tightly packed houses has over 50 middle class and lower-middle-class families of this community.
Says Deen, a college student and resident of this area, "Most of the residents are small business owners. IT goers and bank employees also reside here. But, all have been affected financially. So each family bought meat in limited quantities to prepare biriyani. Families who traditionally buy 5 kilos of mutton, bought only a kilo or less today."
But, I enjoyed my mother's special mutton biriyani, he says, even as he distributes meat to poor families in the neighbourhood. "Part of the meat, we buy has to be distributed among the poor, it's customary in our religion."
Picture: file photo of Bakrid celebration
This entry was posted on Saturday, August 1st, 2020 and is filed under
Community
,
Corona Virus News
. You can follow any responses to this entry through the
RSS 2.0
feed. You can skip to the end and leave a response. Pinging is currently not allowed.