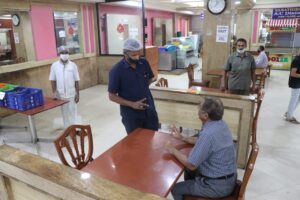 Despite the relaxations in dining rules for restaurants, many food joints in the heart of Mylapore have not opened their doors to diners this August 1.
The only place open was Saravana Bhavan on North Mada Street, Mylapore. The tables, small size were set far apart and only a section of the floor space was used here.
Clients were either having a cup of coffee or a light snack. But there was no rush.
Elsewhere, staff of food joints said that only take-ways would be offered. The general mood is to wait and watch demand for dining in.  The rule was relaxed some time ago and it didn't go great for food joints though most stuck to takeaway service.