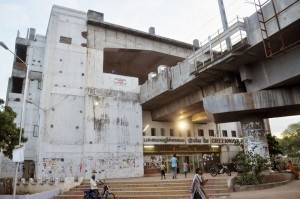 By Our Staff Reporter
Southern Railways has a key issue to address.
If it does not secure its stations on the MRTS, this line is going to be shunned by most people.
Shunned because its stations are unsafe and badly maintained.
The past week's murder at the Greenways Road station is bound to discourage many people, especially women from using this facility, especially after dusk.
An unmarried couple from Mandaveli were enjoying a date on the first floor of the station when the duo were confronted by a gang. It is said that when the youth tried to protect the girl, the gang stabbed him. The young man succumbed moments later.
The gang later surrendered at a city court.
The Thirumylai, Mandaveli and Greenways Road stations all face similar problems. They are sprawling spaces, well lit in parts and less patronised after peak hours. And they are secured by very few RPF men.
Also, slums flank all the three stations. Some locals use the station campus to drink and have sex, others treat it as wash places and sleeping quarters and some others hang out here.
Since the train services are spaced out, commuters have to spend time in the stations and hence, are vulnerable to criminals.
While Thirumailai is a busy place even beyond peak hours, Mandaveli and Greenways are deserted most times. These two do not have bus connectivity and hence, not popular.
(Above is the picture of the Greenways Road MRTS station).
HAVE YOUR SAY
If you wish to share your experiences at MRTS stations in this area, please e-mail to – mytimesedit@gmail.com.
Comments will be posted on www.mylaporetimes.com