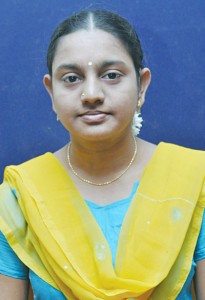 By Our Staff Reporter
R. Leelavathi is the school topper in the Plus Two exam from The Clarke School for the Deaf which is located off Dr. Radhakrishnan Road, Mylapore.
She is the only student here who took the Board exams. She has secured a total of 523/1000marks (Language is exempted for hearing impaired students).
Leelavathi has had a hearing disability since her birth. She attended a 'special' school during her early childhood.
Her parents put her through acupuncture treatment and since the treatment took up time, her studies were disrupted.
It was her grandfather, R. Venkatesan (a retired RBI staff) who stepped in and offered to take the girl under his care. He took her to Dr. K. K. Ramalingam, a renowned ENT specialist.
On the doctor's suggestion, the girl began to use hearing aids. Venkatesan also obtained a medical certificate for her hearing disability and enrolled her at The Clarke School for the Deaf in 1999.
Since then, Leelavathi has been receiving support from her grandparents who help her financially and morally.
She visits her parents during the holidays as they reside at Nangalallur.
Venkatesan says that children like Leelavathy have the capacity to grasp only 50% of what is been taught in school. It is only by repeated study that they are able to understand the subject.
For Leelavathi is was self-study at home but she often took her grandfather's help.
Today, Leelavathi (22) has applied for a course in B.Com in MGR Janaki College for Women in R. A. Puram.
Leelavathi is a resident of Triplicane and her grandfather can be reached at 2844 2181.