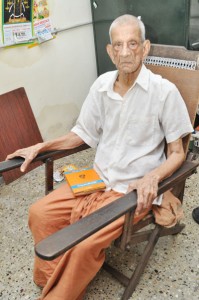 By Our Staff Reporter
N. Ramachandran celebrated his 100th birthday on May 15. Ramachandran has been a resident at the Sri. P. Obul Reddy Senior Citizens Home, Andhra Mahila Sabha since 1995.
He was born in the year 1910 in an orthodox Vedic family in Komal village in Thanjavur. He is the youngest of the four siblings.
His early schooling was at the village middle school and following his father's death he came to Mylapore. He studied at the P. S. High School, North Mada Street.
Soon after finishing his school he got married to R. Vedambal, he was 17 years then. With the help of his father-in-law he studied engineering at the Guindy Engineering College. It was a struggle and he had to give up engineering and attend a B.A. course in Chitambaram.
After graduation he joined his friend and helped set up 'Modern Construction' in 1937. He was the manager and partner of the company.
He retired in the year 1985 and started teaching English, which was his proficiency.
At Modern Construction he had been part of the many large construction projects undertaken like Simpsons, The Hindu and the ICF (Integral Coach Factory). He was also a freedom fighter and had been associated with Rajagopalachari during the freedom struggle.
His youngest son Vedagiri says, "He is a very active, independent and self determined person. He is a voracious reader. He can also speak Sanskrit, Hindi and Urdu. He is an ocean of information."
The manager of the Home Govindarajan says, "Ramachandran is a self-made man and till date insists on performing his duties himself. At this age he is in perfect health and only suffers from a hearing problem".
Vedagiri says he and his siblings miss their father's presence as Ramachandran insisted on staying at the Home.
His son Vedagiri can be reached at 2485 0242 and his daughter Jayalakshmi can be reached at 2493 8156.