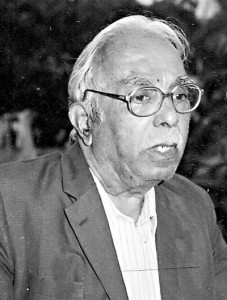 B. Ramachandran, former Deputy DG, Geological Survey of India [GSI], passed away at the age of 83 in Chennai.
An engineering geology specialist from Madras Presidency College, he joined the GSI in 1949 as a geological assistant, spent several years in the eastern and northern provinces, and was on deputation to the Governments of Tanzania and Algeria. He was associated with many hydroelectric and border road projects, and presented papers at national and international conferences.
He retired in 1985 from the Chennai office. After retirement, Ramachandran remained active, wrote articles and provided expertise for specific projects, after retirement, until he suffered a stroke in 2003, which limited the use of his right hand.
His writing skills were reminiscent of his uncle R.K. Narayan. He took upon himself the responsibility to organize the annual Krishnan memorial lectures, in memory of the first Indian Director General of the GSI.
His family said he had a great love for the outdoors, and collected artefacts representing local customs and practices during his travels.
His only self-indulgence was black and white photography.
A bachelor, he made many personal sacrifices for the betterment of his siblings, nieces and nephews.
The contact address – Akshaya Aprtments, 2 Brindavan Street, Mylapore. Condolences may be conveyed at Chennai 24981097.