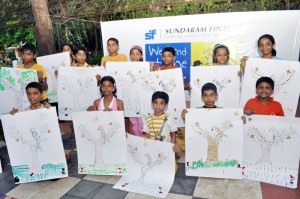 Sundaram Finance organised painting camp for children, aged 8 -12 years, on Saturday June 5. It was held at the Luz park. Children were encouraged to do painting under the theme 'Learn to Paint without a Paint Brush'.
The 90 minute camp helped children explore different techniques related to painting without a brush. The children planted saplings in the park, this was done after the camp.
The Sundaram Finance Weekend at the Park series aims to help children to make use of the open space in the park and also provide a platform for them to use their creativity in the rich vegetation of Nageswara Rao Park.
Check for more photos of the competition in the photo gallery page.