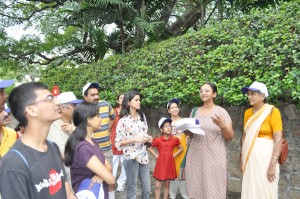 Nizhal, an NGO that is committed to the conservation and nurturing of trees organised a Tree Walk on June 6. The walk covers the areas of Boat Club Road, R. A. Puram.
Chitra Viswanathan from Nizhal guided the participants around the area. She explained about Urban tree culture and tried to create awareness among the people about the wealth around them.
The walk begins at 7 a.m. and a small group joined in the walk. see the video of this walk at http://www.mylapore.tv/.
You can also view the photo gallery for pictures on the walk.
To know more about the upcoming walks organised by Nizhal call 98408 68411 between 10 a.m. and 5 p.m.