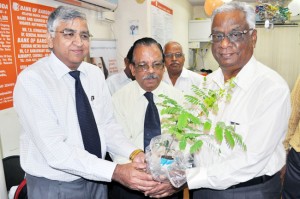 The 103rd Foundation Day of the Bank of Baroda, Mylapore was held on July.
Tree saplings were given to guests – these were provided by Green Peace, Mandeveli.
Photo shows ( left to right) R. Sounrajan, Deputy General Manager (Chennai Metro) L. Rangarajan, Chief Manager and V. Ganesan from Alwarpet, the customer of the longest standing.