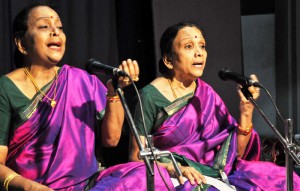 The 'Bombay Sisters' C. Saroja and C. Lalitha will receive the prestigious Sangita Kalanidhi award of The Music Academy and preside over the 84th annual conference to be held from December 15, 2010 to January 1, 2011.
A press release of the Academy said the annual conference and concerts will be inaugurated by Shiv Nadar, Chairman, HCL group.
The awards will be conferred on the Sadas, which will be presided over by Nobel laureate Venkataraman Ramakrishnan, on the final day of the conference. Ramakrishnan is a Carnatic music rasika and attends the Academy concerts – he attended the 2009 'season' concerts.
The committee also decided to confer the Sangita Kala Acharya awards on Suguna Varadachari, vocalist, and Rhadha, dance guru. Vocalists Manakkal S. Rangarajan and Parassala Ponnammal will receive the T.T.K.Award.
The musicologist award has been conferred upon R. Satyanarayana.
The Pappa Venkataramiah award will be given to violinist Radha Narayanan.
This is only the second time in its history that the Sangita Kalanidhi award is being given to a duo. The Sikkil Sisters were conferred the award in 2002.
Saroja resides in Karpagam Avenue, off San Thome High Road,
dance guru Radha is in Alwarpet, Suguna Varadachari in Raja Annamalaipuram and Radha Narayanan is in Alwarpet.
Contact numbers – C. Saroja – 044-2493 7889. _E-mail – bmbyss@hotmail.com_C. Lalitha – 044-24463222 _Suguna Varadachari – 044-24953380._Radha Narayanan – 044-2499 5144