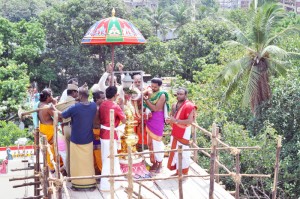 The Jeernodharana Mahakumbhabhishekam of the Sri Sai Baba Temple in Mylapore took place on July 15.
The core ceremonies began at 10.30 a.m. and were held for about 30 minutes.
Kumbhabhishekam was also performed for the two gopurams and to Sri Sai Baba and Sri Narasimha Swamiji, founder of the All India Sai Samaj, which is 70 years old.
The consecration of a new hall was also held. It is dedicated to Sri Narasimha Swamiji. A statue of this swamiji is placed here.
Food was freely distributed to devotees and others.
A procession of the utsavamurthi is scheduled to take place later on July 15 evening. The ceremonies began on July 11 with poojas and continued through the week.
The gopuram and the temple premises were beautifully decorated. A large number of devotees gathered on Thursday morning to witness the Kumbhabhishekam.
The All India Sai Samaj manages this place. Its contact phones – 2464 0784.
You can visit the photo gallery page to see the photos of the Kumbhabhishekam. A small video of the ceremony can be seen at www.mylapore.tv.