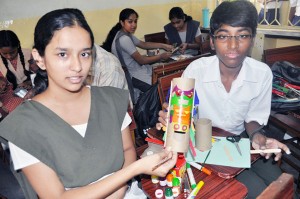 Sri Sivaswami Kalalaya Hr. Sec. School, Mandaveli celebrated Decafest 2010 on July 16 – 17. The school celebrated a successful decade and are hosting the inter- school cul – fest.
Decafest 2010 was inaugurated by Lalitha Jayaraman, former principal of the school, on July 16. The fest was held at R. K. Swamy Auditorium, Mylapore.
The valedictory function was held at Lady Sivaswami Ayyar Girl's Higher Secondary School on July 17.
Around 15 schools participated in the various events organised during the fest. Some of the school's alumni members were also present during the valedictory event. Chief Electoral Officer Naresh Gupta was the chief guest.
The photo show children participating at the Art de Junk competition. The School can be reached at 2495 7950.
You can view more photos of the cul-fest in the photo gallery.