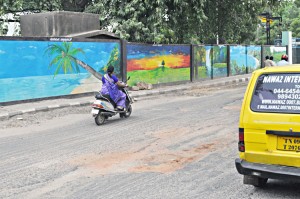 Many roads and streets in the Mylapore neighbourhood have been milled. That is, the top layer has been scraped off using mechanised equipment.
This has been done to facilitate relaying of roads, projects which have been okayed long ago. But the relay work is yet to start.
When the Mylapore MLA, S Ve Shekher put this question to the Corporation engineers, after the MLA was bugged by residents they had a ready answer – while the milling contract is given to one contractor the relaying work is handled by another.
Obviously, co-ordination is not in the Corporation's work lexicon.
Motorists say they skid off the milled streets especially after it rains.
Subramaniam Street, C. P. Ramaswamy Road, R. K Math Road, Bro. Dhinakaran Road are some of the places where motorists have to bear with milled streets/roads.
Since the rains have been steady this season, the work may have to be held over for some time.
The photo shows the scene on Abhiramapuram's 3rd Main Road. Roadsides dug up in order to lay storm water drains. Residents say two weeks have passed since the work started and now, rainwater stagnates in the trenches and has begun to pollute the colony.