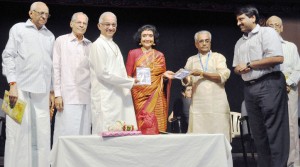 Natyarangam's 14th annual Bharatanatyam Festival is called 'Vaggeyabharatham' began at Narada Gana Sabha in Chennai on August 30.
The fest was inauguration by dancer Vyjayantimala Bali.
Seen in the photograph is dancer Vyjayantimala, dancer V. P. Dhananjayan, R. Krishnamoorthy, President, Narada Gana Sabha and others during the release of a book.
The fest will be on till  September 3. There are two dance recitals a day at 6 p.m. and at 7.30 p.m.
Performances by well know dancers like Alarmel Valli and Urmila Sathyanarayanan are on. The fest will be inaugurated by Vyjayanthimala Bali at 6 p.m.
Open to all. Ph: 044-24993201.
For more information about the fest log on to www.kutcheribuzz.com.