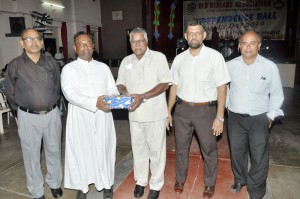 St. Bede's Anglo Indian School, San Thome had its Family Get- Together at the school campus on August 14.
This was hosted by the school Alumni. Many past pupil were seen with their family. Retired teachers were also invited. Over 200 people were present for the occasion.
It was an evening of fun and old memories. Various party games, Housie – Housie, DJ music, dance and dinner were organised.
The alumni will be having a similar Family Get – Together every year on August 14 says Davis Thomas, President of the Alumni. He further added that the alumni also have plans to revive the 'night school' for poor students in the school.
Seen in the picture is retired PT master, Francis Samuel (center). He gave away the prizes for the winner. Click here to see more pictures of the occasion.