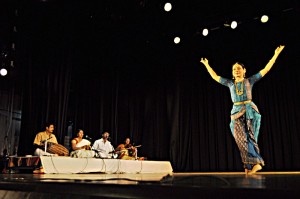 Svanubhava, a fest for students of classical dance and music in Chennai began on August 2. It is organised by Matrka (a body promoted by artistes T. M. Krishna and Bombay Jayashri) and YACM (Youth Assn. for Classical Music). The fest will be held in different parts of the city till August 7.
On August 6, the fest was held at Teachers' College of Music, Music Academy. The program began with dance and song performances by the students of Music Academy.
There were concerts by N. Rajam, Sangeetha Shankar, Ragini Shankar and Nandini Shankar with Ojas Adhiya, dance by Malavika Sarukkai, a concert by S. Shashank with B.U. Ganesh Prasad, Parupalli Phalgun, Sai Giridhar, a retro on T. Viswanathan by Sriram Parasuram and Anooradha Sriram.
The photo is of a dance performance by Malavika Sarukkai.
For more information of the fest click here. To view the report on the fest held on August 4 click here.